Not One Drop – Betrayal and Courage in the Wake of the Exxon Valdez Oil Spill
Riki Ott illustrates in stirring fashion the oil industry's 20-year trail of pollution and deception that lead to the tragic 1989 spill and delves deep into the disruption to the fishing community for the next 10 years. Coming November 2008. Order here.
---

Sound Truth & Corporate Myth$: The Legacy of the Exxon Valdez Oil Spill
Sound Truth and Corporate Myth$ exposes oil as a human and environmental health hazard, based on stories of key witnesses and participants in the environmental tragedy that struck Prince William Sound in 1989. 2005 finalist for the Benjamin Franklin Book Award in Science and Environment. Order here.
---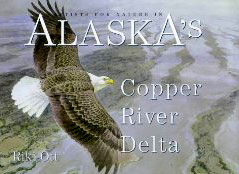 Alaska's Copper River Delta
Alaska's Copper River Delta visits the largest wetland on the Pacific coast of North America – with its associated rain forest, barrier islands, mountains, and glaciers, and its wildlife and human inhabitants – and reveals the Delta through the work of 22 artists from 11 countries. Invited by local residents and the Netherlands-based Artists for Nature Foundation, artists came to the Delta to see spawning runs of Copper River salmon and the world's greatest shorebird migration. They stayed in the seaport town of Cordova, working closely with residents to portray their daily lives on fishing boats and in processing plants, and visited a Chugach-Aleut spirit camp to appreciate the community's spiritual strengths. Together, artists and residents seek to both celebrate and protect the area's magnificent natural resources and cultural diversity, while helping to build a healthy future for all inhabitants. Contact the Copper River Watershed Project to order this book.